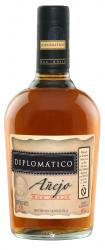 Rich brown rum distilled from molasses. Aged in used whisky and bourbon barrels.
Bottled at 40% alcohol by volume.

Arctic Wolf's review

Diplomatico Anejo 89.5pts

In the Bottle (4.5/5)
I like the dark glass protecting the spirit from sunlight. If we had a cork in the bottle I would score this a 5.

In the Glass (9.0/10)
Nutty (hazelnut and walnut) aroma mixed with cinnamon and brown sugar. Darker and more brooding aroma than the Exclusiva Reserva even though the spirit is lighter.


In the Mouth (54.0/60)
This tastes very similar to Ron Zacapa23. It is slightly sweeter and harsher. Nutty, caramelly, sugar and cinnamon with butter. It tastes a bit like ameretto and cream. The flavour does have a harsh backbite almost like a sudden infusionof allspice at the end of the flavour. If we had a little more balance here I could rate this even higher.

In the Throat (13.5/15)
I like the finish but find my throat assaulted by a roughness like spices that are still battleing down the throat into the stomache. I do not mind this it is actually mildly pleasant. There is a bitterness like wayward sulpher mixed in here that detracts just a little.

The Afterburn (8.5/10)
I found I really liked this bottle but could never really enjoy it as much as I did the Diplomatico Exclusiva Reserva. It is like the precocious younger sister of your girlfriend who has her charm but is just a little too immature to take seriously. Of course if I drink this more often the younger sister may begin to appeal more and more.. .. There is an appeal to the harsher more imature spirit.




Review last updated August 18, 2009
There is only 1 review of Diplomático Añejo by our forum members.
There are 12 sugar cane spirits distilled by Distilerias Unidas, S.A..
Last updated June 24, 2010