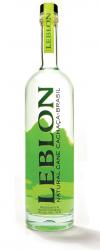 Clear cachaça distilled from fresh sugar cane juice. Rested up to 6 months in XO Cognac casks.

Since 2006, Maison Leblon has been working with Giles Merlet, a French cognac distiller, to perfect the art of making cachaça in Brazil. Orginially sourced from local farmers, Maison Leblon now distills all of the their cachaça at their distillery.
Innovations and improvements in the cane crushing mills, fermentation and distillation processes contribute to the improved flavor and success of Leblon cachaça. Today all of the Leblon cachaça is aged a few months in cognac barrels from France before being bottled in Brazil for the world market.
The people at Leblon have been very active in petitioning the US government to recognize cachaça as a distinct spirit category. I look forward to the day when their efforts are realized and cachaça is recognized in the US as it is in Brazil as separate sugar cane spirit apart from rum.
Read more and sign the petition to Legalize Cachaça

Bottled at 40% alcohol by volume.

Tiare's review

Leblon has a bit of a rummy boquet with a fruity nose, and a smooth taste and mixes perfectly with fresh fruits. I like its flavor, its smooth and it has a nice character.The aftertaste is a lingering flavor of sugarcane and herbal-floral notes. Its an artisanal cachaca and single-distilled from the juice of fresh-pressed sugar cane in small batches using alambique copper pot stills. Leblon is lightly aged in vintage French oak cognac casks for an average of 6 months by master distiller Gilles Merlet from the Cognac region of France who adds a french touch to this cachaca.
Read more from Tiare at A Mountain of Crushed Ice
Review last updated January 12, 2009
There is only 1 review of Leblon Cachaça by our forum members.
There are 2 sugar cane spirits distilled by Maison Leblon.
Last updated September 6, 2012