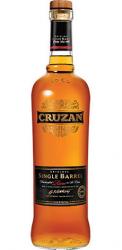 Brown rum distilled from molasses. A blend of rums aged 5 to 12 years in used whisky and bourbon barrels.

The special blend of aged rums is married and then aged again in a new charred barrel from six to nine months. The additional time in a new barrel gives Cruzan Single Barrel Rum more flavor than would be possible aging in used barrels. The smoky oak, dark fruit and nut flavors are reminiscent of a fine Cognac in character and style.

Bottled at 40% alcohol by volume.

Awards

Gold Medal - Premium Rum - 2009 Ministry of Rum Tasting Competition
Gold Medal - Premium Rum - 2008 Ministry of Rum Tasting Competition


Arctic Wolf's review

Cruzan Single Barrel Rum is a blend of vintage rums which have been aged up to 12 years. Once blended the vintage rums are then refinished in a new oak barrel for about one year. Barrels are bottled individually with each bottle of rum coming from a single barrel. Since my initial tasting, Cruzan has changed the bottle design but not the manner in which the rum is made. Because each barrel will have different characteristics, each bottling will be different from the last, but the general character of each bottling is similar due to the previous blending process.......


Read more from Arctic Wolf at The Rum Howler
Review last updated November 5, 2009
There is only 1 review of Cruzan Single Barrel Estate Rum by our forum members.
There are 23 sugar cane spirits distilled by Cruzan Rum Distillery.
Do you sell
Cruzan Single Barrel Estate Rum
?
Register
your business.
Update
your business profile.
Search our database of
online stores
.
Last updated June 13, 2012