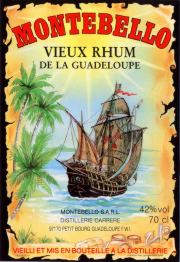 Brown rhum agricole distilled from fresh sugar cane juice.
Bottled at 42% alcohol by volume.

Tiare's review

I love this rum..but maybe its not for everone as it is a bit rough..Friends that had never tasted agricole before and tasted this didn´t like it at all.. It has a rough pronounced grassy aftertaste and if you don

Review last updated October 29, 2008
There is only 1 review of Montebello Rhum Vieux by our forum members.
There are 2 sugar cane spirits distilled by Montebello Distillerie Carrere.
Last updated June 23, 2010