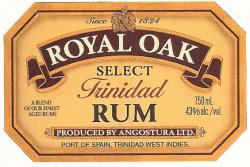 Light brown rum distilled from molasses. Blend of rums aged 3 to 6 years.

This premium rum from Angostura is lighter than many other premium rums and lacks the heavy smoky flavor associated with many aged premium rums. I enjoy this rum with ice or with coconut water and a splash of bitters.

Bottled at 43% alcohol by volume.

Arctic Wolf's review

Angostura Royal Oak Select 87/100

20 years ago my wife and I spent three weeks in Tobago at the Turtle beach Resort. At the time I was a whisky drinker and not a fan of rum at all. However, when in Rome....

So at the hotel and on the beach I drank rum. And I liked it. What they were serving me was a locally produced rum and although 20 years have past I do believe it was Angostura Royal Oak Select. I went back to Canada with two 40 ounce bottles but alas they are long gone. I went back to drinking whisky, as the Rums available in my locale just did not measure up. It was during the recent rum explosion that my palate for rum has been rekindled. Flor de Cana, Ron Matusalem, and El Dorado have helped to bring me back in the fold.

But a couple weeks ago I found 3 Bottles of Royal Oak Select covered in dust in a local liquor store. The proprietor said they were new stock, the dust said otherwise, but I bought all three to see if that rum still tasted as good as 20 years ago.


In the Bottle (4.0/5)

This is kind of a early 80s style glass bottle, screw top, and clear glass.. Nothing fancy, but this rum only cost me 20 bucks a bottle so I do not expect much.

In the Glass (8.5/10)

The rum is aptly named as it has a nice golden colour. It is a little darker than than I would expect for a 3 to 6 yr old rum. I smell lots of caramel and a light smell of coconut. It nice but I wonder if caramel has been added to achieve the colour.

In the Mouth (53/60)

This has a sweet caramel flavour. If caramel has been added it does not bother me. Taste is what counts and this tastes nice. I can taste that hint of coconut I smelled in the glass and also a mellow spiciness. Everything is light and relaxed.

In the Throat (12/15)

The finish is tight with little to no oil to lengthen the experience. A nice burn, but things are a little rough on the way down. The younger spirits in the blend have their say in the throat.

The Afterburn (9.5/10)

Going through my scores I was surprised that each part of the drink experience had not scored higher. I like this rum. Its not outstanding, but it is a very pleasant diversion. I have tried it in a few cocktails and the results have been stellar. Mixed with coke it is outstanding. I guess that is why I like it so much. I like to mix and this rum has been great in every type of rum drink I tried. I even prefer it to Flor de Cana in my Sloe Lime Daiquiri. So I am bumping up the score in the afterburn because the rum is more than the sum of its experiences.



Review last updated September 28, 2009
There is only 1 review of Angostura Royal Oak Select by our forum members.
There are 12 sugar cane spirits distilled by Angostura Ltd.
Last updated June 23, 2010