June 1

June 7

June 13
Chicago Ministry of Rum Festival 2011presented by the Ministry of Rum & Bottom Lounge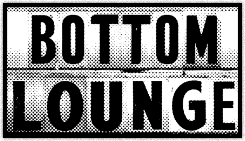 Thursday - June 16, 2011 @ Volcano Room

Press & VIP 5:00 pm - 6:00 pm

5:15 - 6:00 pm John Meisler presents Cooking with Don Q Rum.

John brings his love of Cajun food and rum to the table downstairs at the Bottom Lounge.
Taste some of John's secrets as he demonstrates his magic so you can impress your friends at home.

Chicago Rum Festival 6 pm - 9:00 pm

Sample some of the best rums from around the world,
and cocktails from some of Chicago best bars including:
Double A, The Bedford, Whistler, Gilt and more.
Check back for more details to come shortly.

Tickets for Chicago Rum Festival

Sugar Cane Spirits List Subject to change
Lieutenant Dan Spiced Rum

And more to be announced . . .

Door prizes and special gifts from the Ministry of Rum and the people who enjoy making rum as much as you enjoy drinking it.
Details from last year's event.
Last Updated: Oct 14, 2013