Chicago Ministry of Rum Festival 2010
<< Previous page 1 2 3 4 5 Next page >>

Kick off cocktails at Ja'Grill

Kick off cocktails at Ja'Grill

Cruzan Rums

Cruzan Rums

10 Cane

Kick off cocktails at Ja'Grill

And more rums

10 Cane

Brugal Rums

<< Previous page 1 2 3 4 5 Next page >>
presented by the Ministry of Rum & Bottom Lounge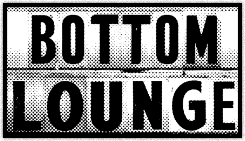 Thursday - June 3, 2010

Into to Rum with Edward Hamilton @
1008 W Armitage
Chicago, IL
Map to Ja'Grill

Featuring Don Q and Appleton Estate Rums
7pm - 9pm
Appetizers and Music from the islands.

Friday - June 4, 2010 @ Volcano Room

1pm - 4pm
Sugar Cane Spirits Seminar
Learn the origins of the Caribbean Spirit
Experience some of the different styles of the most varied of all the distilled spirits
Learn what to look for when selecting your next bottle of sugar cane spirit.
How to best enjoy the sugar cane spirit you have selected.
Are you a member of the Trade? You may be eligible for a complimentary ticket to this seminar. Register here.
-->

Blackhawks Pre-Game @ Volcano Room

5:30pm - 7pm Cocktails - Rum cocktails and snacks before the Blackhawk's play in the Stanley Cup Finals.
During the game, enjoy drinks and cigars on the patio.

Saturday - June 5, 2010 @ Volcano Room

Chicago Rum Festival 3 pm - 6:00 pm

Press & VIP 2pm - 3pm
Sample rums from around the world and taste the best of the distiller's art.
Cocktail seminars with Peter Vestinos
6:00 pm
Cooking with the great flavors of Don Q rums and pairing your meal with Great Don Q Cocktails
John Meisler will demonstrate his New Orleans culinary heritage with dishes like
Pirates Coast Jambalaya
Mojito Shrimp Cocktails
Grilled Lamb Chops in Gran Anejo rum reductions sauce
Creole Bread Pudding or Bananas Foster with Rum Sauce.
6pm to Sunset
Rum & Cigar mixer on the patio
-->

And more to be announced . . .

Door prizes and special gifts from the Ministry of Rum and the people who enjoy making rum as much as you enjoy drinking it.
Details from last year's event.
Last Updated: Oct 14, 2013