Chicago Rum Festival 2009
presented by the Ministry of Rum & Bottom Lounge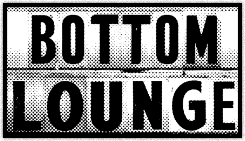 Friday, May 29, 2009

Distiller's Dinner

Claudine Neisson from Martinique will be sharing some of the secrets of her family's rhum agricole. Other distillers to be confirmed.
Matti Anttila, owner of Cabana Cachaça will be showing attendees how Cabana is enjoyed in Brazil and now in the US.
Phil Prichard will also be joining us with some of his small batch Tennessee rums.
David Cid, Brand Master Apprentice from Bacardi will be serving classic daiquiris before dinner and special cocktails after dinner.
6:00 pm Cocktails - served by the people who make sugar cane spirits for a living
7:00 pm Dinner at the Volcano Room - followed by sipping rums from the distillers cabinet
Caribbean inspired Dinner - fish, chicken, pork, plantains and more . . . And of course - rum.
9:00 pm Music from the islands
Saturday May 30, 2008

Chicago Rum Festival 3 pm - 6:00 pm

Sample rums from around the world and cocktails made by some of the best mixologists in Chicago.
Learn how the professionals enjoy their favorite spirit and taste like a pro.

The following brands have confirmed their participation.

Check back to see the latest additions to this list.

Chang Lager Beer

Door prizes and special gifts from the Ministry of Rum and the people who enjoy making rum as much as you enjoy drinking it.
Last Updated: Oct 14, 2013